Sam and Tracy's outside Biker Themed Wedding Day at the Bella Terra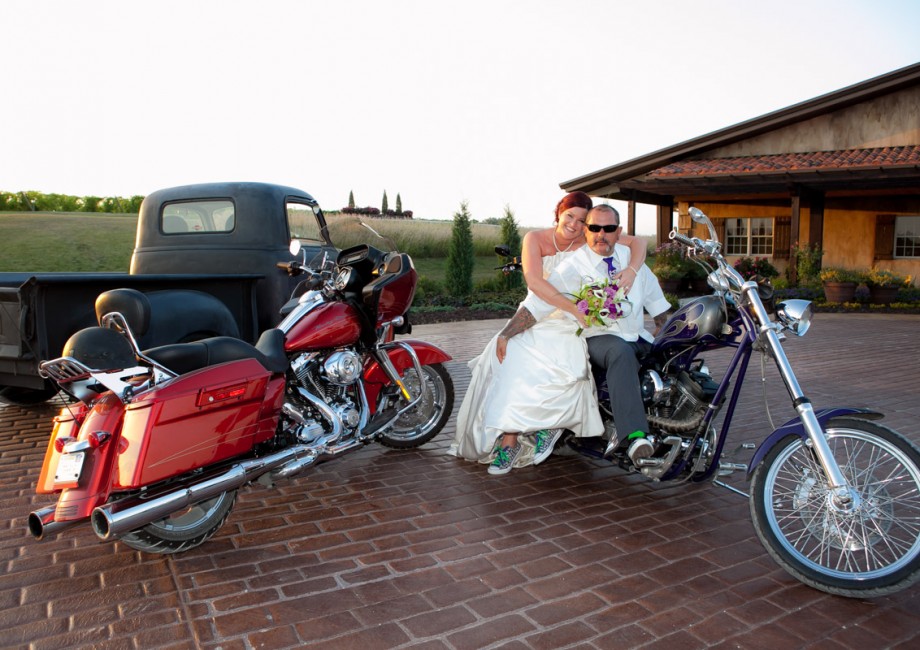 Sam and Tracy's August wedding took place at the amazing Bella Terra Vineyards as an outside biker themed wedding. I know that a Wedding day outdoors, and a photographer dressed in black is not the best match with this blistering heat; however,  this couple is the perfect match made in heaven. They are so excited and passionate about their love for each other that no amount of heat was going to make a difference in their photos, the ceremony or even the party following. This was the most beautiful bride and handsome groom and life is great when both are so into it as Sam and Tracy were.
Their very colorful and lively bikers in the Wedding Party were living life to the full extent as they rolled up on the brick filled courtyard area with everything  from Harley's to custom choppers and a backdrop of an Italian villa. This is what Tracy wanted and this is what happened. To see it is one thing but to hear it sent chills up my spine. Who could ask for more? The grounds were filled with grape vines and rolling hills, typical of the eye candy that Iowa's amazing farmland and gravel roads provide.  I was so pumped months before, planning for hundreds of different situations in a matter of a few hours. There's never enough time as a photographer.  I always catch as many candid photos and details along the way though.
As promised, there were families meeting each other for the first time, lots of smiles, laughter and bitter sweet tears. Again love was very much in the air.  I've posted some of the moments in the day and pretty impressed with how Tracy's son, the best man was bouncing off the floor in his free style dance moves in this evenings events. It was so easy to stay with the party into the late hours. Another mile stone that never gets dull but promises for new opportunities as a wedding photographer.